The GLCA NEH Endowment fund supports faculty travel to Japan and other East Asian countries in support of projects involving the study of Japan.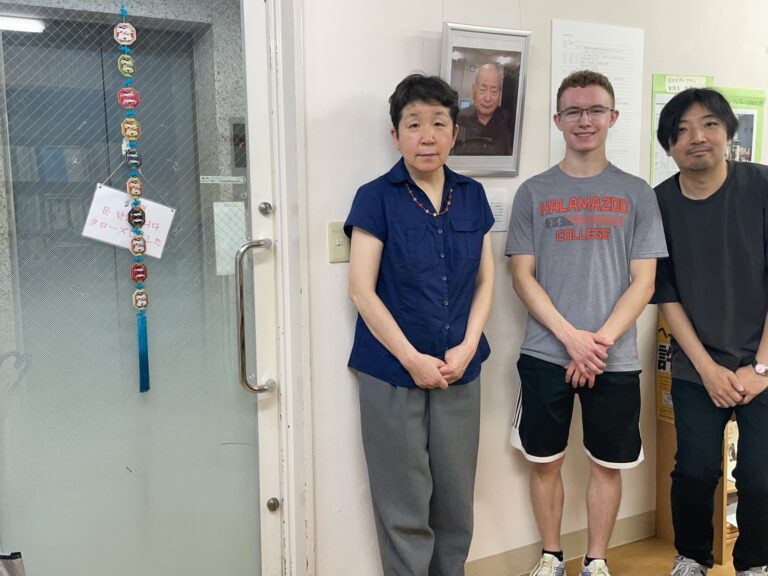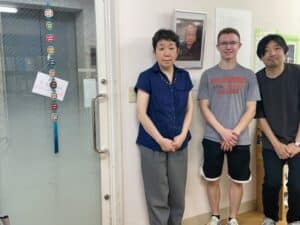 Noriko Sugimori, Associate Professor of Japanese and Chair of the East Asian Studies Department at Kalamazoo College, received an NEH Endowment award to travel to  Japan to interview activists working on social justice issues and to conduct research at the National Diet Library in Tokyo. This work provided important background material for a reference book Professor Sugimori is co-authoring to help instructors of Japanese incorporate social justice topics into their teaching of Japanese as a world language at all skill levels. Professor Sugimori believes that to achieve the goal of preparing students to better understand and live successfully in a diverse world, social justice topics should be explored in all language classrooms. To do so, it is important to show students the efforts of activists in Japan. Professor Sugimori conducted several interviews in Toyama and visited the Cultural Center Arirang in Tokyo, a library focused on fostering interactions among Japanese residents, Koreans in Japan, and Koreans, where she interviewed the library staff. An unexpected outcome of this visit is that Professor Sugimori hopes to set up internships for Kalamazoo students at the Cultural Center Arirang.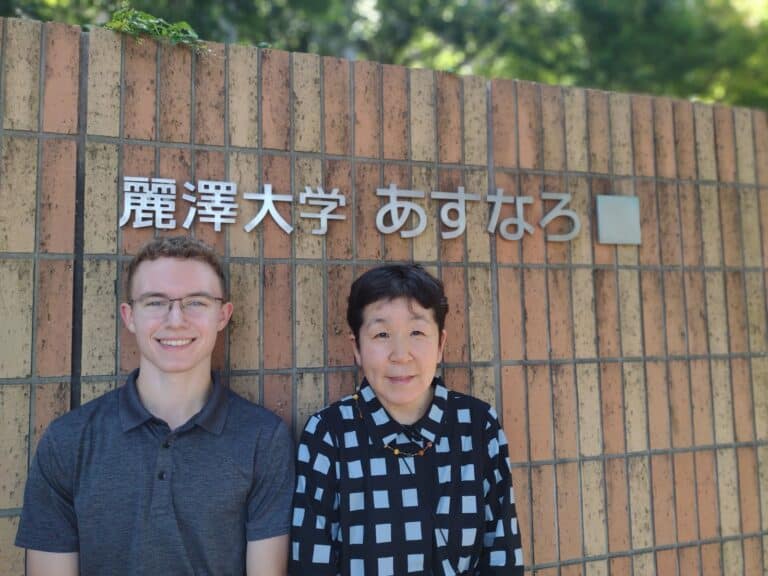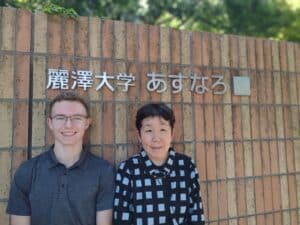 At the National Diet Library, Professor Sugimori researched social justice issues in Japan, including what is arguably one of the most widely recognized forms of discrimination in Japan, the ostracized community known as the "burakumin." There will be Japanese and English versions of the reference book available as an open-access text and a traditional print publication of the Japanese language edition.
Nayda Colazo-Llorens, Visiting Assistant Professor of Art and Art History at Kalamazoo College, received an NEH Endowment award to visit the Tokyo Geijitsu Daigaku (Tokyo University of the Arts), also known as Geidai. Professor Colazo-Llorens gave a lecture on Mark-making and Mapping. The primary purpose of the visit was to learn about traditional and contemporary Japanese printmaking and techniques such as Mokuhanga, which Professor Colazo-Llorens will incorporate into her printmaking course at Kalamazoo College.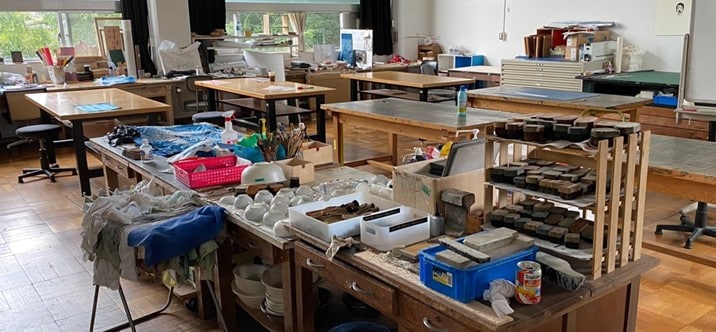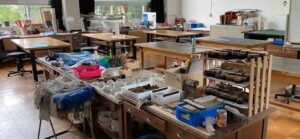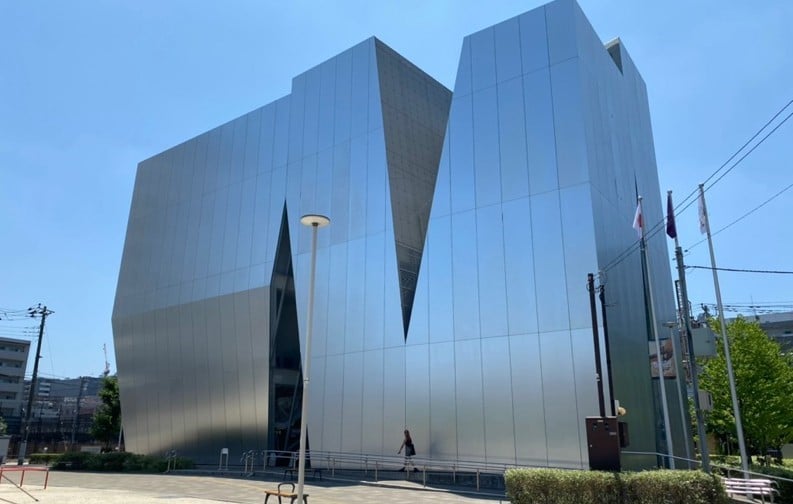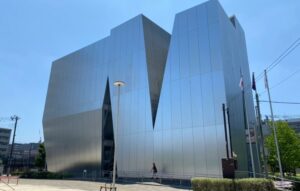 She learned more about the printmaking technique Mokuhanga at Geidai's Mokuhanga studio, looking at students' work in progress and becoming familiar with the specialized tools that are used. Professor Colazo-Llorens purchased some of the necessary tools to take back to her studio at Kalamazoo. At the Sumida Hokusai Museum, Professor Colazo-Llorens was able delve into Hokusai's art practice and context and learn more about the Mokuhanga inking process. She focused on Hokusai's influential print series Thirty-Six Views of Mt. Fuji (ca. 1829-1833)and his 102 designs for the printed book One Hundred Views of Mt. Fuji (1829-ca. 1847).
Seeing these works in person was a unique experience and was made more special by a visit to Mt. Fuji the next day. This combination of art and site visit gave Professor Colazo-Llorens the opportunity to consider how Hokusai translated his context and landscape in a distinctive graphic way that has been influential to artists all over the world. During her visit, Professor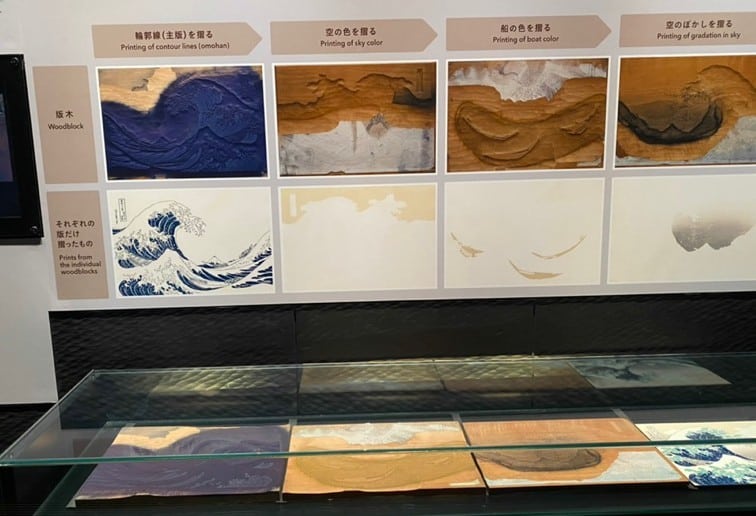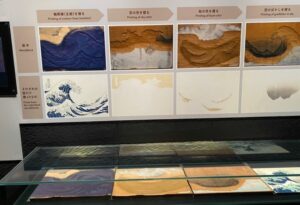 Colazo-Llorens also visited the Mori Art Museum, the high-tech interactive digital museum teamLab Planets, and the National Art Center. The trip provided an opportunity to connect with fellow teaching artists, art historians, and other Japanese art professionals involved in higher education.