The Great Lakes Colleges Association held a Presidential Summit on Mental Health and Wellness December 11-13, 2019 in Ann Arbor.  Approximately 100 people in 12 campus-based teams attended, including presidents, chief academic officers, deans of students, directors of counseling/health/wellness, athletic directors, faculty, and students.  The purpose of the summit was to provide ideas, resources and tools to support campuses as they continue to foster a campus climate of wellness and deepen their understanding of student mental health issues on campus.
Throughout the summit, participants were encouraged to learn from outside speakers and panelists as well as from each other, share with others in similar positions both formally and informally and work together on campus-based plans of action.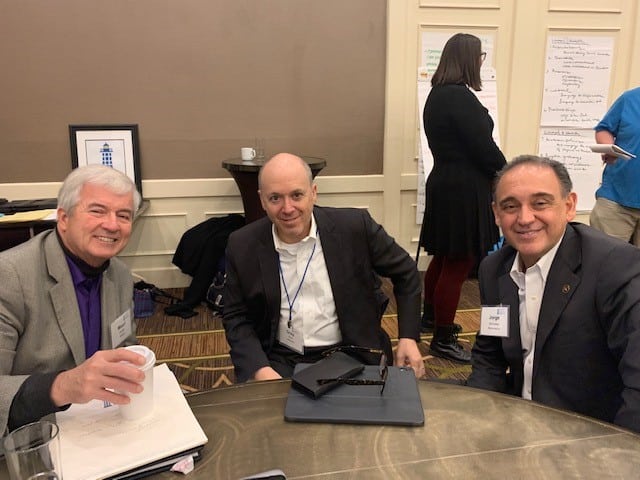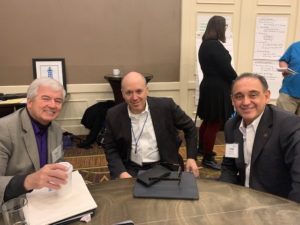 Presidents Mauri Ditzler (Albion), Greg Hess (Wabash) and Jorge Gonzalez (Kalamazoo) confer during the summit.  
The summit started with a keynote from Sara Abelson of the Healthy Minds Network at the University of Michigan. She shared national data and trends gathered from the Healthy Minds Network annual survey of college and university students. The following morning, participants heard from national organizations, including Nance Roy of the JED Foundation, who gave an overview of JED's comprehensive approach for campuses; Laura Horne of Active Minds about frameworks for engaging students in this work; and Carlton Green of the University of Maryland, representing The Steve Fund to share their Equity in Mental Health Framework. Following meetings of those in like positions across GLCA institutions, two afternoon panels focused on Innovations and Best Practices and Building Institutional Capacity for Inclusive Mental Health and Wellness with specific focus on students of color, LGBTQ+ students, and student athletes. More information and resources gathered through the summit will be added to the GLCA website soon and speakers are listed here. All panelists and presenters were accessible during the summit for consultation and networking.
Throughout the day Thursday and on Friday morning, campus teams met to share what each team member was learning and to develop specific steps for the campus action plan. At the end of the summit, teams presented their top take-aways from the summit that could impact their own campus as well as ideas for consortial collaboration.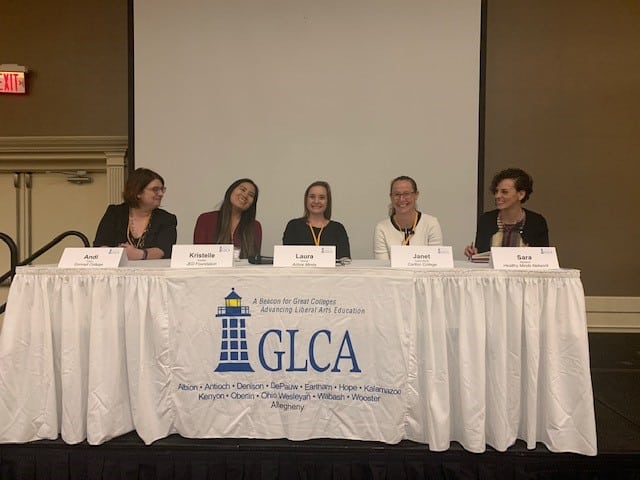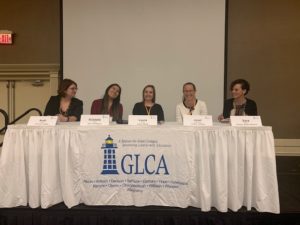 Panelists field questions during the Summit.
As a result of the summit, seven campuses have indicated an interest in pursuing the JED Campus program in the coming years, in addition to four that have already begun this process. The GLCA will collect campus action plans and share them with leadership of all the institutions, and the GLCA will follow up with campuses to review progress made in about six months.
The rigorous schedule and impressive exchange of ideas among all participants created a rich environment and provided meaningful tools for each campus to utilize in order to help all students thrive.
This is the third presidentially led summit GLCA has hosted in the last decade, the first of these, on diversity and inclusion, took place in 2008 and a second Summit, on Title IX and sexual respect, convened in 2014.