GLCA staff joined administrators from four of its member colleges in a visit to Waseda University in Tokyo, Japan on November 8, 2019.  The University was founded in 1882 and today enrolls nearly 50,000 undergraduate and graduate students.  Its mission is to educate students to make positive contributions to a changing world and contribute to the public good as global leaders. 
Among Waseda's educational priorities is to promote global competence in students through opportunities to interact with people of other nations and cultures.  One way it does this is through a partnership with Earlham College called the Japan Study Program, which is one of the GLCA's Recognized Study-Away programs. 

Up to 35 students of GLCA or ACM colleges per year enroll in the Japan Study Program at Waseda to enhance their liberal arts studies with a deep experience of international culture.  American students take courses taught in English in addition to at least six units per semester of Japanese language study.  Students benefit also from the experience of a major university in the vibrant metropolitan setting of Tokyo. 
The recent American visitors to Waseda University included Mickey McDonald, President of the GLCA; Anne Houtman, President of Earlham College; Jorge Gonzalez, President of Kalamazoo College, and John Woell, Associate Provost at Albion College.  They were guided by Dyron Dabney, Director of the Japan Study Program at Earlham College. 
The visit culminated in a lunch with the President and senior officials of Waseda University, in which there were exchanges of gifts and expressions of good will for the strong partnership that exists between these institutions.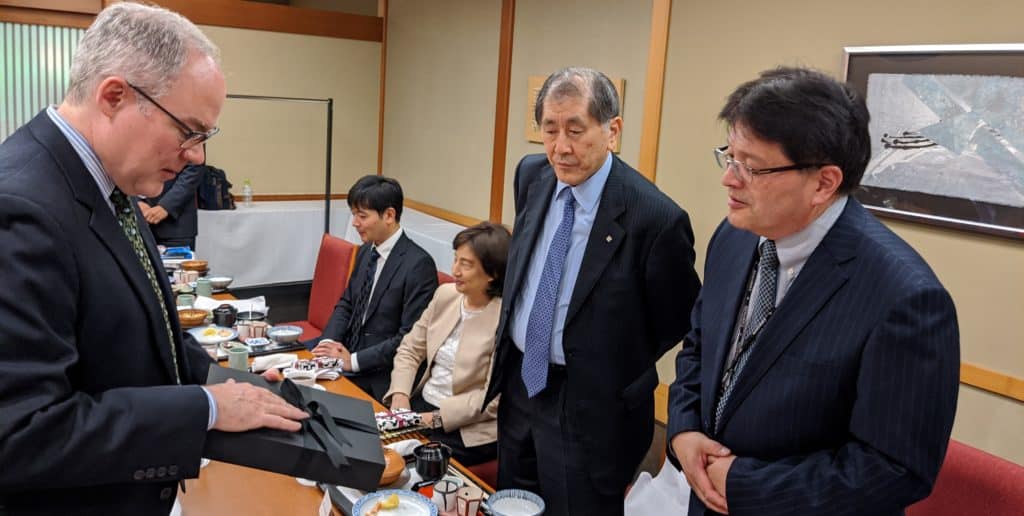 The Earlham/GLCA/Waseda Japan Study Program now celebrates 56 years since its founding.  For information about the Japan Study Program, contact Dyron Dabney at [email protected].